1.1 This document is an electronic record in terms of (i) Information Technology Act, 2000; (ii) the rules framed there under as applicable; and (iii) the amended provisions pertaining to electronic records in various statutes as amended by the Information Technology Act, 2000. This electronic record is generated by a computer system and does not require any physical or digital signatures.
1.2 This document is published in accordance with the provisions of Rule 3 (1) of the Information Technology (Intermediaries guidelines) Rules, 2011 that requires publishing the Terms of Use for access or usage of the application and website made available by Vahan Technologies India Pvt. Ltd (collectively referred to as the "Platform").
1.3 The Platform is owned, registered and operated by Vahan Technologies India Pvt. Ltd, a company incorporated under the Companies Act, 2013 and having its registered office at C-625, New Friends Colony, 3rd Floor, New Delhi – 110 025 ("Vahan" or "Company").
1.4 These terms of usage ("Terms of Use") govern Your use of the Platform and Services (as defined below) provided through the Platform. By using or visiting the Platform You shall be deemed to have read, understood and accepted to be bound by these Terms of Use.
1.5 For the purpose of these Terms of Use, wherever the context so requires "You", "Your" or "Delivery Expert" shall mean any natural or legal person who has voluntarily signed up/registered on the Platform to provide delivery services to Shadowfax Technologies Private Limited ("STPL" or "Customer"). The term "We", "Us", "Our" shall mean "Vahan" or the "Company".
1.6 We reserve the right to make changes to these Terms of Use at any time. Any such modifications will become effective immediately upon: (i) notifying such change to You; and (ii) posting it on the Platform, and your continued use of the Platform constitutes your agreement to such modifications.
2. Services
2.1 Description: Through Our Platform, STPL shall connect directly with Delivery Experts to fulfil the delivery orders placed by their customers.
2.2 Registration:
2.2.1 In order to render the delivery Services, You will be first required to register on the Platform. You hereby grant your consent to the Company to collect, store and process Your personal information at the time of Your registration. Such information provided by you would be used in pursuance of these Terms of Use and may be shared with other third parties (including with STPL, its affiliates and vendors) in furtherance of these Terms.
2.2.2 You shall be required to submit a copy of the following documents to the Company at the time of Your registration: (i) Aadhar Card; (ii) Driving license; (iii) SSC/10thstandard certificate; (iv) Vehicle insurance; (v) Vehicle Pollution under Control (PUC) certificate; (vi) Vehicle No Objection Certificate issued by the Regional Transport Office (RTO); and (vii) Medical certificate. For the purposes of receiving the payouts, you will provide us with accurate and complete details of your bank account. The Company and/or STPL is not responsible for non-receipt or delayed receipt of any payments from the Company on account of bank processing or inaccurate or incomplete details You have provided.
2.2.3 You hereby represent to the Company that there are no criminal proceedings/cases that are filed against You (before any fora) as on the date of Your registration on the Platform. You hereby acknowledge that the Company may, through its partners conduct a background verification check on Your profile (from a professional standpoint and to ensure that you can provide the Services) before listing You on the Platform.
2.2.4 Registration on the Platform and continued provision of Services as a Delivery Expert is subject to verification of personal data collected from you including copies of valid government-issued vehicle registration certificate, vehicle insurance copy, driving license, identity proof, residence proof, proof of ownership of Delivery Expert Vehicle and any other information that the Company may deem fit.
2.2.5 Once listed and registered on the Platform, You will receive, on a chargeable basis (unless otherwise specified to You), delivery bags and T-shirts which You shall be required to maintain and wear at all times while performing delivery services for STPL. You shall not use such bags and t-shirts for any other purpose other than delivery of orders of STPL. In case of loss of the bags or the T-shirts, You will be required to purchase these afresh, for which you will be charged, and consequent deductions will be made from the payouts due to You. Further, You are solely responsible to maintain the bags and T-shirts in a clean and hygienic manner and ensure that they are adequately sanitized and fit for use for the Services. You are solely responsible to collect the bags and the T-shirts in a timely manner and as when you require the same for carrying out the Services hereunder.
2.2.6 The Company shall have in place a support desk to assist You with/address any of Your queries pertaining to Your delivery order(s). You can reach the support desk by calling +91 80 4722 3706, and/or emailing help@vahan.co.
2.2.7 The Company shall, at its sole discretion procure, health insurance coverage worth Rs. 1 lakh, to be enrolled within 7 days of on-boarding for the benefit of the Delivery Experts. The Delivery Partner shall, at the request of the Company, supply such information, and execute such documents as may be required by the insurance company or companies to whom the Company has applied for such insurance policy. You understand that these benefits are entirely discretionary and subject to change and withdrawal by the Company at any time and without Your consent.
2.2.8. In the event that You find that You are a victim of identity theft, and someone is using Your name/personal details, You should immediately notify us on + 91 80 4722 3706, and/or emailing help@vahan.co. We reserve the right to suspend any account at any time with or without notification to the Delivery Expert, in order to prevent any occurrence of what We believe to be a fraudulent activity.
2.2.9 You agree to: (a) provide true, accurate, current and complete information about Yourself as required; (b) maintain and promptly update information to keep it true, accurate, current and complete; (c) submit any documents that may requested by the Company from time to time; and (c) use the Platform only to provide the Services in accordance with the terms and conditions stipulated herein, and such other guidelines as may be notified by the Company from time to time.
2.3 Modification of Services: We reserve the right to unilaterally add, change or remove features and other aspects of the Services provided under these Terms of Use, including the payout structure, discretionary benefits, whether on account of change in circumstances, statutory changes or otherwise. These Terms of Use shall continue to apply to such modified Services, unless notified otherwise. We further reserve the right to, at any time, and from time to time, modify, discontinue, temporarily or permanently, the Platform or the Services provided, or any part thereof, with or without notice to You. It is hereby agreed by You that You shall not hold the Company liable for any such modification, temporary suspension or discontinuation of the Platform or the Services.
2.4 Escalation: In case of any grievances, delays, or other concerns, You should immediately contact the support desk at +91 80 4722 3706, and/or emailing help@vahan.co.
2.5 Contacting You: You hereby consent to be contacted on your mobile number, and any other electronic means, including through instant messaging systems.
3. Nature of Engagement with Delivery Experts
3.1 You hereby agree and acknowledge that the Platform merely facilitates You to receive delivery orders placed with STPL via the Platform. You have signed up as a Delivery Expert on the Platform at Your own freewill and You shall render Your delivery services solely in Your capacity as a third – party independent contractor, on a principal to principal
to-principal basis and the contract between the parties is a contract for service. Nothing mentioned herein shall not create or purport to create any joint venture, employment, agency, franchise, fiduciary, sales representative or any vicarious and absolute liability relationship between the parties. Neither party shall be liable for any action or omission of the other party in any manner. You shall, in no event, represent yourself to be an authorized representative of the Company or STPL.
3.2 Under no circumstances shall Your performance of delivery services to STPL via the Platform constitute an employer – employee relationship between: (i) Yourself and the
Company; and/or (ii) Yourself and STPL. Neither the Company nor STPL shall be deemed to have any direct control over Your performance of delivery services. Under no circumstances shall the Company and/or STPL be liable to pay You any statutory benefits/payments as prescribed under applicable labor laws
3.3 You shall perform the delivery services as requested via the Platform and the performance of such delivery services shall not become or claim any employment or employment benefits or any other employment related payments from the Company and/or STPL by virtue of providing the delivery services any time during the term of your engagement or subsequently after the termination/expiry of your engagement. The conferment of any equipment, safety apparatus, clothing, accessories, etc., which may be provided to You is at the sole discretion of the Company and/or STPL, purely as a welfare facility and on humanitarian considerations, and the same along with any advertising or showcasing of STPL's food and beverage brand/s will not in any manner be construed as an employer employee relationship between the parties.
3.4 You are solely responsible to ensure the delivery of the packages handed over to you. Neither STPL nor the Company exercises or purports to exercise any control over the manner in which you execute the Services as a Delivery Expert. You are free to undertake such Services in the manner you deem fit, through routes chosen by you and on vehicles owned or leased by you, or where you have the right to use such Vehicles.
3.5 You shall be solely responsible to ensure that your driving license and any other mandatory licenses/permits and taxes are up to date, in force and paid for at all times. Failure to do may result in de-registration from the Platform and disbarment from providing the Services hereunder. All liabilities and responsibilities in relation to motor vehicle insurance, maintenance of the vehicle used by the Delivery Experts shall be the sole responsibility and at the sole cost of the Delivery Expert.
3.6 During the duration of this arrangement, You shall act and perform the Services entirely at Your behest and command, in the mode and manner of Your choosing, exercising Your independent judgement, keeping in mind applicable laws and common sense, and the Company or STPL shall have no supervision and control whatsoever over your day-to-day activities or the manner of provision of the Services.
3.7 The engagement as a Delivery Expert is non-exclusive and entirely at your sole discretion and will, subject to satisfaction of the conditions specified in these Terms. You are free to engage yourself in other arrangements with other companies / parties, consulting or any other business activity as long as it does not create a conflict of interest with the Company's business or provision of your Services as a Delivery Expert. By signing this letter, you confirm that you have no obligations that would prohibit you from performing your deliverables towards the Company.
3.8 You acknowledge that there are no guaranteed deliveries or minimum orders made by the Company or STPL. However, You are expected to login for at least 4 (four) hours every day and accept at least 2 to 3 orders per day. If You are unable to do so, or You are unable to login for 2 or 3 days consecutively, Your account may be suspended. You can reach out to the support desk at +91 80 4722 3706, and/or emailing help@vahan.co, if You wish to activate your account once again.
4. Payout of Delivery Experts
4.1 In consideration for rendering the delivery Services, You shall be paid by the Company in accordance with the payout structure made available to you via message on whatsapp and/or over phone call , subject to deductions as set out in these Terms, any statutory deductions, and any deductions made on account of value added services that you have availed. Please visit the link above to access the current payout structure, which is subject to change from time to time, with due intimation to you. In case of any queries/clarifications relating to your payout, please contact the helpdesk at +91 80 4722 3706, and/or emailing help@vahan.co.
4.2 You will be paid on a weekly basis and Your cycle for weekly payments shall be from Monday to Sunday. If You have joined mid-week, or on any day other than Monday, Your payouts will be pro-rated for the actual days you have rendered Services, and based on actual orders that have been fulfilled. Your weekly payouts will be made the following Thursday or Friday, subject to bank delays and processing timelines.
4.3. The Company will deduct amounts towards the cost of the bags and uniforms provided to You, unless otherwise specified.
4.4 The abovementioned payout structure, payout cycle and deductions are solely determined by STPL and the same may be subject to revision at the sole discretion of STPL and/or the Company at any point in time. Any other variable pay or non-cash consideration for the Services will solely be provided by STPL, if so decided, at its sole discretion.
4.5 EXCEPT FOR THE ABOVE, NEITHER STPL NOR THE COMPANY SHALL BE LIABLE FOR ANY OTHER PAYMENTS OR FEES, WHETHER UNDER LAW OR CONTRACT, IN RELATION TO THE SERVICES PROVIDED BY THE DELIVERY EXPERT.
5. Guidelines to be followed by Delivery Experts
5.1 The Delivery Experts shall at all times while rendering delivery services:
(i) strictly adhere to any policies/guidelines prescribed by the Company or STPL, from time to time;
(ii) behave and exhibit conduct in a manner that is appropriate and becoming of a delivery expert;
(iii) conduct himself/herself with honesty, discipline and in accordance with, applicable laws including but not limited to safe driving;
(iv) at no time whatsoever, tamper with, damage, open or do anything to the packages being delivered by the Delivery Expert;
(v) contact the designated personnel of the Company and/or STPL in the event the Delivery Expert encounters any issue while performing their Services;
(vi) not consume any tobacco products or alcohol or any other illegal substance or solicit the use of such substance while rendering delivery services;
(vii) strictly adhere to the provisions of the Motor Vehicles Act, 1988 and its corresponding rules and also the traffic rules while performing the delivery services;
(viii) maintain the delivery bag, uniform and any other materials received from the Company or STPL in good condition and not misuse the same in any way; (ix) shall not engage in conduct, in any way, that would amount to harassment, sexual
harassment, bullying, or engage in violence. The Company and STPL have zero tolerance for any such conduct and the engagement of the Delivery Expert will be terminated immediately, if found to be engaging in such misconduct;
(x) shall not engage in any abusive behavior towards any personnel of the Company or STPL or any end-customer of STPL or subject such person(s) to any kind of harassment or use obscenities while communicating with such person(s).
5.2 You are permitted to cancel up to two orders per day, at Your instance or initiation. However, if You have any "marked delivered/not delivered" case against You, Your account is liable to be suspended by the Company and/or STPL, without further notice or liability towards You.
6. Limitations and Disclaimer of Warranty
6.1 The Platform, the Services and each portion thereof are provided "as is" without warranties of any kind either express or implied. To the fullest extent possible pursuant to applicable laws of India, we disclaim all warranties, express or implied, with respect to the Platform and each portion thereof, including, but not limited to, implied warranties of merchantability, fitness for a particular purpose, non-infringement or other violation of rights.
6.2 Under no circumstances, including, but not limited to, negligence, shall We be liable for any direct, indirect, special, incidental or consequential damages, including, but not limited to, loss of data or profit, arising out of the use, or the inability to use the Platform or any portion thereof, even if We or Our authorized representative has been advised of the possibility of such damages.
7. Indemnification
You agree to indemnify, defend and hold harmless STPL and the Company, and their respective affiliates, officers, directors, agents, partners, employees, licensors, representatives and third party service providers or vendors, from and against all losses, expenses, damages, costs, claims and demands, including reasonable attorney's fees and related costs and expenses, due to or arising out of any unauthorized use of the Platform, or Your connection to the Services, or Your breach of these Terms of Use. We reserve the right, at our own expense to assume the exclusive defense and control of any matter otherwise subject to indemnification by You, and in such case, You agree to fully cooperate with such defense and in asserting any available defenses. In particular, if the Company and/or STPL suffers any loss due to the Delivery Expert tampering with, damaging or opening the packaging of food and beverages orders, the Company and/or STPL shall be entitled to recover the loss, if any, from the payments due to the Delivery Expert, or through any other means, without prejudice to any other remedies.
8. Termination
8.1. We may terminate these Terms of Use immediately without notice in the event of (i) any breach by You of these Terms of Use or any of our applicable policies, as may be intimated to You from time to time, or (ii) it is discovered or comes to our notice or the notice of STPL that any information given in your application, declaration or any document is false or you have misrepresented or omitted to provide relevant information.
8.2. Without prejudice to the above, we may terminate these Terms of Use without notice to You by terminating your rights to use the Platform or the Services for any reason or no reason. In the event of termination or expiration of these Terms of Use, the following sections of these Terms of Use shall survive: (i) all provisions regarding ownership of intellectual property rights; (ii) indemnification; (iii) disclaimer of warranties; and (iv) limitations of liability; (v) consequences of improper conduct, fraud or abuse, and the provisions of this section.
8.4. Your final settlement shall be processed in the following weekly payment cycle.
8.5. You agree that upon the termination of these Terms of Use, We may delete all information related to You on the Services and may bar Your access to the Platform and use of the Services, if the situation so warrants.
9. Value Added Services
9.1 At its sole discretion, the Company facilitates the below value added services to You that are
provided by third parties, which you are free to avail, at your sole risk and based on your sole decision. The Company reserves the right to unilaterally modify or withdraw all or any of the
services now or in future, with due intimation to You. You understand and agree that these services are only facilitated by the Company and are not provided by the Company, but by the other third party service providers directly to You. The Company bears no liability and bears no responsibility in relation to these services, the quality of or deficiency in such services, and any complaints/grievances in relation to the same will have to be directly raised with the relevant service provider. The Company does not determine or assess the eligibility criteria or other conditions attached to availing these services, and
the relevant service provider, at its sole discretion, may determine not to provide the particular service to You. In such a case, You understand and agree that the Company bears no liability arising out of such decisions.
9.2 If you wish to avail any of these services, please inform +91 80 4722 3706. You can opt in for these services at any time during the term of this arrangement. Once You opt in, the agreed amounts will be deducted from your payouts due to You under these Terms. You hereby authorize the Company to deduct such amounts from any amounts due to you.
9.3 If you decide to opt out of a service in future, You will be responsible to ensure that your decision to do so is communicated to the relevant service provider. We will deduct such amounts from Your payouts, as communicated to us by the relevant service providers.
9.4 Upon termination of your engagement as a Delivery Expert, or termination of these Terms, you will be solely liable to settle all dues of the service provider, on account of the value added services.
9.5 The value added services are: • Salary advances
• Micro loans
• Accidental insurance
• Telemedicine
• Hospicash benefits
• Health insurance plan
10. General: Unless otherwise specified herein, this Terms of Use for Services constitutes the entire
agreement between You and the Company in respect of the Services and supersedes all previous written and oral agreements between you and the Company, if any. The Company's failure to act with respect to a breach committed by You or others does not waive its right to act with respect to subsequent or similar breaches.
11. Confidentiality: You agree to safeguard any confidential information of STPL or the Company, which You may have had access to during the provision of Services, and to prevent the unauthorized, negligent or inadvertent use or disclosure thereof. You will not, without Our prior written approval, directly or indirectly, use or disclose such confidential information to any person or business.
12. Governing Law: This Terms of Use document shall be governed by and constructed in accordance with the applicable laws of India without reference to conflict of laws principles. Any disputes arising in relation to, or under, this Terms of Use and the Privacy Policy, shall be subject to the exclusive jurisdiction of the courts of New Delhi.
13. Grievance officer: In accordance with Information Technology Act 2000 and rules made there under, the name and contact details of the Grievance Officer are provided below:
Name: Pranay Prasad
Email: help@vahan.co
Number: 08047223706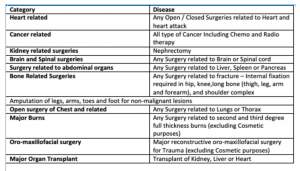 I agree that I have not undergone any surgery for the above mentioned diseases.
AGREEMENT TO TERMS OF USE
By selecting LOGIN and proceeding, you agree to Vahan's Terms of Use and acknowledge that you have read the terms of use. You agree that Vahan technologies Pvt.Ltd will be managing your account. You also agree that Vahan, its representatives or Shadowfax Technologies Pvt.LTD and their representatives may contact you by SMS, Whatsapp, email (including by automated means) using the email address and mobile number you provide, including for awareness and marketing purposes.